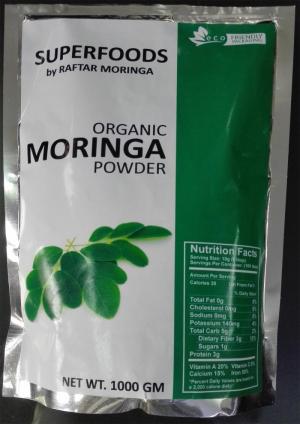 Moringa Powder (1Kg Rs.8000)
You cannot have good health if you do not consume food that is nutritional. How does nutrition, with its vitamins, minerals and other nutritional compounds promote a healthier lifestyle? Professor Mike Golden, who works with United Nations agencies involved in malnutrition, says much of the problem with nutrition is not the quantity of food, but the quality of food we eat, with people needing about 40 different nutrients to be healthy.
The combination of vitamin D and calcium brings a remarkable reduction in cancer risk. Potassium is essential for the functioning of the brain and nerves, and significantly lowers the risk of a stroke. Finally, proteins are necessary for the basic building blocks – amino acids – of all of our body cells.
Organic nutrients include carbohydrates, proteins or amino acids, lipids, and vitamins. Inorganic nutrients include minerals. Water is sometimes included in a listing of nutrients. Vitamin A acts as a shield against eye disease, skin disease, heart ailments, diarrhea, and many other ailments. Vitamin C fights a host of illnesses including colds and the flu while supporting the cardiovascular system. Calcium is necessary in building strong bones and teeth, plus it helps prevent osteoporosis.
Interaction between nutritional compounds is necessary for health in all ways. Vitamins cannot function without minerals. Without minerals, your body can't function. Vitamins, minerals, and other nutrients are best absorbed and used by the body when they are derived from natural sources (plants and animals) and are present in naturally occurring complex compounds, not as separate compounds as formulated in pills.
A new review involving dozens of studies of the antioxidant vitamins A, E and C, confirms this, finding the popular supplements don't help you live longer. As a result, some researchers now believe antioxidants work only when they are in food. Alice Lichtenstein, a professor of nutrition science and policy at Tufts University, not involved with the review, says the study's main message is: "Rely on food to get your nutrients."
The human body requires 20 amino acids to grow, build, and maintain cells. Amino acids are the building blocks of protein. Amino acids relate to proteins as letters of the alphabet relate to words.
The proteins in Raftar Moringa™ gives 18 of the 20 known amino acids, including all eight amino acids classified as essential. These essential amino acids cannot be synthesized by the body and must come from a person's diet, usually from red meat or dairy products. These foods are not available in many parts of the world and are lacking in the diets of vegetarians, elderly people, and children.
Raftar Moringaâ"¢, with its 90+ verifiable nutrients, not only contains all these elements, but also has significant portions of Vitamins B, B1, B2, B3, D, and E, polyphenols (antioxidants), other minerals, fiber, and is one of the highest, naturally occurring sources of chlorophyll.
Moringa oleifera - The most nutritious plant ever studied, contains two important classes of compounds:

Antioxidants:
Vitamin A
Vitamin C
Vitamin E
Vitamin K
Vitamin B (Choline)
Vitamin B1(Thiamin)
Vitamin B2 (Riboflavin)
Vitamin B3 (Niacin)
Vitamin B6
Alanine
Alpha-Carotene
Arginine
Beta-Carotene
Beta-sitosterol
Caffeoyquinic Acid
Campesterol
Cartenoids
Chlorophyll
Chromium
Delta-5-Avenasterol
Delta-7- Avenasterol
Glutathione
Histidine
Indole Acetic Acid
Indoleacetonitrile
Kaempferal
Leucine
Lutein
Methionine
Myristic-Acid
Palmitic-Acid
Prolamine
Proline
Quercetin
Rutin
Selenium
Threonine
Tryptophan
Xanthins
Xanthophyll
Zeatin
Zeaxanthin
Zinc
Anti-Inflammatories:
Vitamin A
Vitamin B1 (Thiamin)
Vitamin C
Vitamin E
Arginine
Beta-sitosterol
Caffeolquinic Acid
Calcium
Chlorophyll
Copper
Cystine
Omega 3
Omega 6
Omega 9
Fiber
Glutathione
Histidine
Indole Acetic Acid
Indoleacetonitrile
Isoleucine
Kaempferal
Leucine
Magnesium
Oleic Acid
Phenylalanine
Potassium
Quercetin
Rutin
Selenium
Stigmasterol
Sulfur
Tryptophan
Tyrosine
Zeatin
Zinc
Typical Nutritional Data
________________________________________________________________________
Macronutrients (per 100g)
Moisture (%) 7.5
Calories 205
Protein (g) 27.1
Fat (g) 2.3
Carbohydrates (g) 38.2
Fiber (g) 19.2
Amino acids (g/16gN)
Arginine 1.33
Histidine 0.61
Isoleucine 1.32
Leucine 1.95
Lysine 1.32
Methionine 0.35
Phenylalinine 1.39
Threonine 1.19
Tryptophan 0.43
Valine 1.06
Minerals (per 100g)
Calcium (mg) 2003
Magnesium (mg) 368
Phosporous (mg) 204
Potassium (mg) 1324
Copper (mg) 19.1
Iron (mg) 28.2
Zinc (mg) 3.29
Vitamins (mg per 100g)
Vitamin A - Beta Carotene 16.3
Vitamin B1 - Thiamin (mg) 2.6
Vitamin B2 - Riboflavin (mg) 20.5
Vitamin B3 - Nicotinic acid (mg) 8.2
Vitamin C - Ascorbic acid (mg) 17.3
Vitamin E – Tocopherol acetate (mg) 113.0
Physical Characteristics
Appearance Powder
Color Rich green
Flavor Tart
Allergens
This product is free of milk, eggs, fish, Crustacean shellfish, tree nuts, peanuts, wheat, soybeans and is gluten-free.